Tuesday 6th March 2012
On Wednesday 29th Feb Andrew (right) made a very welcome return to Edinburgh to read for the Poetry Association of Scotland, at the Scottish Poetry Library, with Ryan Van Winkle (above left).
There was another Homecoming on Saturday 3rd March at the Green Tea House in Moniaive, for a celebration of Roncadora Press, reading with Jean Atkin, Hugh McMillan and Rab Wilson, all held together by the ever-marvellous creative genuis that is Hugh Bryden.
Next event: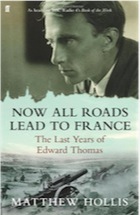 Andrew will be charing a session with Matthew Hollis on his Costa-Award-winning biography
All Roads Lead to France: The Last Years of Edward Thomas
at Words by the Water in Keswick on Friday 9th March 3.30pm. Matthew's book focuses on the friendship between Thomas and Robert Frost, and looks at how Thomas made the transition from critic and prose writer to one of our most enduring poets.
Friday 10th Feb 2012
Andrew spent the day at the Brewery Arts Centre in Kendal judging the 2012
Ann Pierson Awards
, a unique series of awards for young writers resident in Cumbria. Thanks to fellow judges
Kevin Dyer
and
Zoe Sharp
. The results will be announced at an evening of readings at the Brewery on Wednesday 25th April, with special guest Paul Farley.

Here's last year's winner Grace Ormerod with special guest Helen Mort.